After a long embargo, results from the Danish National Space Center (DNSC)
Sky
experiment were finally published in the Proceedings of the Royal Society. These results will probably we overshadowed with today's announcement of this years' physics nobel prize winner (for the COBE microwave background experiment), but they are
very
important nonetheless.
This is the Royal Society's press release on the publication of Svensmark et al.:
"Using a box of air in a Copenhagen lab, physicists trace the growth of clusters of molecules of the kind that build cloud condensation nuclei. These are specks of sulphuric acid on which cloud droplets form. High-energy particles driven through the laboratory ceiling by exploded stars far away in the Galaxy - the cosmic rays - liberate electrons in the air, which help the molecular clusters to form much faster than atmospheric scientists have predicted. That may explain the link proposed by members of the Danish team, between cosmic rays, cloudiness and climate change."
You can also find more about it in the
Danish National Space Center press release
The experiment itself is a 7m
3
cloud chamber containing marine like air. By controlling the ionization rate using different UV fluxes (i.e., mimicking different cosmic ray ionizations), the group checked to see whether the growth rate of small
condensation nuclei
is affected by different ionization rates, and indeed it does as can be seen in the first figure. The experiment itself can be seen in the second figure below.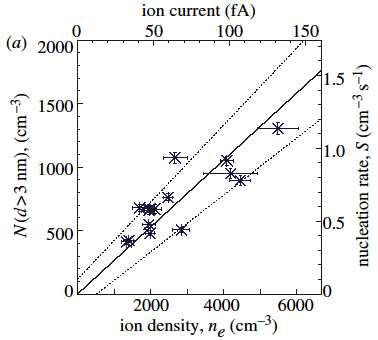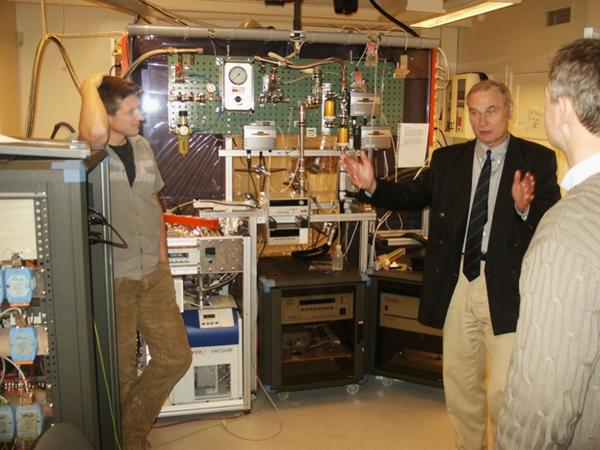 What do these results imply? For a long while, evidence pointing out towards a Cosmic Ray → Cloud Cover → Temperature link has been accumulating. (e.g., see this
short review
). The evidence was clear enough to convince many (such as your humble servant) that the Cosmic ray climate link is the
only
reasonable explanation for the plethora of data. However, a big thorn was the lack of physical evidence for the physical mechanism, which until now was only speculated. Until now that is.
The
SKY
experiment unequivocally demonstrates that more cosmic rays would imply more condensation nuclei in the atmosphere. In many circumstances, it is reasonable to expect that more of the small
condensation nuclei
would also imply more of the larger
cloud condensation nuclei
which form the seeds of clouds. Namely, there would be a link between atmospheric ionization (i.e., cosmic rays flux variations) and climate, in regions devoid of other condensation seeds (such as dust over land).
This link implies that a large fraction of the 20th century global warming can be explained through increased solar activity (which reduced the cosmic ray flux reaching Earth). More about that can be found in this
discussion
, or in
this paper
.
Kudos for Henrik Svensmark and his group!