On of the interesting manmade climate phenomenon is that of
Ship Tracks
, whereby a ship, with all the exhaust particles its releases, can change the characteristics of clouds in its wake.
The physics behind the effect is relatively simple. To form clouds, the water vapor needs cloud condensation nuclei to condense upon. Without such particles, one can reach and surpass 100% humidity without getting condensation (I often joke that it would feel like DC in summer... which of course is wrong since there is enough pollution there to have as many cloud condensation nuclei as the water vapor could wish).
Over the oceans, such particles are not overly abundant. This means that a passing ship could significantly increase the local density of cloud condensation nuclei. This effect is of course amplified by the fact that ships tend to burn the cheapest, most polluting fuel they can find. They're in international waters after all.
In the regions with the larger particle density, the same amount of condensing water vapor now has more particles to condense upon. This means that the clouds are then formed from more numerous but smaller droplets. Overall, we therefore get a much higher surface to volume ratio. Since the volume is the same (the given amount of condensing vapor), we get a larger total reflecting surface area. These clouds are therefore whiter. They also tend to live longer because it is harder for those smaller drops to grow in size, and rain out. The net result is that the pollution wakes of ships can manifest themselves as a white streak in the clouds, as is apparent in the first figure.
Last week I was on such a polluting boat, and to my amazement, one could actually see the cloud of dark polluting particles linger behind the boat for miles. The ship definitely polluted like hell!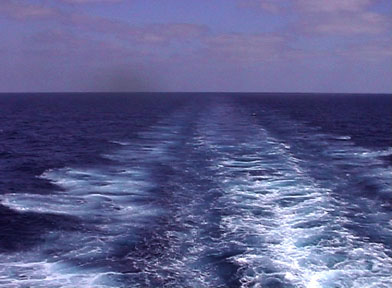 I didn't see any effect on clouds, however, I wasn't in the pristine pacific air after all. It was the eastern mediterranean somewhere south of Cyprus, with many land originating pollutants, dust particles, etc. So I am not sure whether meaningful ship tracks can actually form there (Image Google'ing Mediterranean Ship Tracks doesn't pop up any ships tracks from this sea). Also, I am not sure that the ship tracks are actually apparent from the ships producing them, that is, if you were to stand on one of the ships producing the tracks in the first figure, would you be able to see the "track" in the clouds? Any sailor out there who can comment?
Incidentally, this phenomenon unequivocally demonstrates that by playing around with the density of cloud condensation nuclei, one can affect the albedo (reflectivity) of clouds, and with it, Earth's average albedo. This explains why cosmic rays, which
appear to affect the formation of condensation nuclei
, can affect
Earth's climate
.